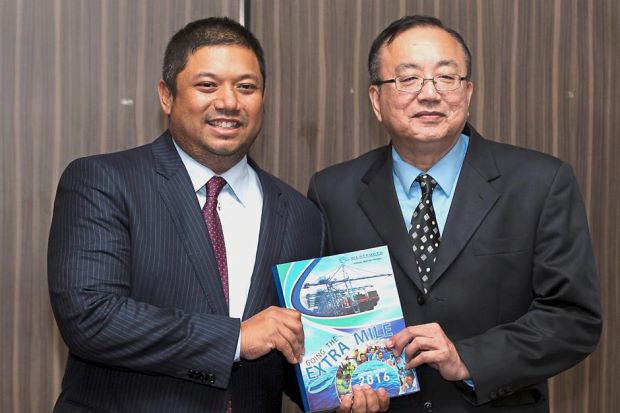 KUALA LUMPUR: Westports Holdings Bhd expects a marginal volume growth this year due to the recalibration of the number of containers going through the Straits of Malacca as a result of new shipping alliances, says chief executive officer Ruben Emir Gnanalingam.


"The container shipping industry is going through unparalleled development, as three global shipping alliances will conquer the container carrying capacity in almost all the major trade lanes. New global services with the realigned port of calls are being introduced.


"The industry will go through a recalibration process as the shipping lines adjust to different routes and different alliance partners. I would give it 15 months before the dust fully settles to get a clearer picture of container growth," he told reporters after the company's AGM yesterday.


Westports recorded a 10% volume growth to 9.95 million twenty-foot equivalent units (TEUs) in 2016, but for this year, it will be a game changer for the terminal located in Port Klang as two of its major customers, namely, French liner CMA CGM and United Arab Shipping Company, are members of a new alliance.


The Ocean Alliance of CMA CGM, China Cosco Shipping, Evergreen and Orient Overseas Container Line, beginning April 1 this year, will operate 20 weekly services between Asia and North America.


Nevertheless, Westports will become the regional transhipment hub for Ocean Alliance.
Last year, Westports accounted for 76% of the total containers that were handled at Port Klang and 18% of all volume passing through the Straits of Malacca.


On the global economic front, Ruben said growth is expected to remain subdued with potential challenges to current trade arrangements.


"Within this region, China's economy is projected to make a gradual transition to a more modest but sustainable growth rate.


"And closer to home, Asean economies still have great prospects for further growth per capita gross domestic product.


"Cognisant of these potential headwinds, we expect slightly positive growth in the container volume for 2017," he said.


While these adjustments are in progress, Ruben expected the container supply capacity to be deployed in the coming year would remain exceedingly high, given the significant level of ship orders placed in the previous years.


"For Westports, the completion of phase one of container terminal nine (CT9) would bring its annual container handling capacity to about 14 million TEUs by year-end.


"We are investing around RM1.7bil for both CT8 and CT9, where more than half the total is going to be spent this year. We expect to have the highest capital expenditure in our history this year.


"We are also fully utilising the last year of our tax investment allowance. Thus, I assume that our profitability would still record good growth this year due to the tax allowance.
"The more we invest, the lower the tax rates," he said.


Westports' statutory tax rate was at 11.5%, 22% and 16% in 2014, 2015 and 2016 respectively.
For the financial year ended Dec 31, 2016, Westports posted a net profit of RM636.9mil, up 26.1% against RM504.86mil a year ago. Its revenue rose 21% to RM2.03bil from RM1.68bil previously.


Westports share was up 5 sen to close at 4.04 yesterday.
Read more at The Star