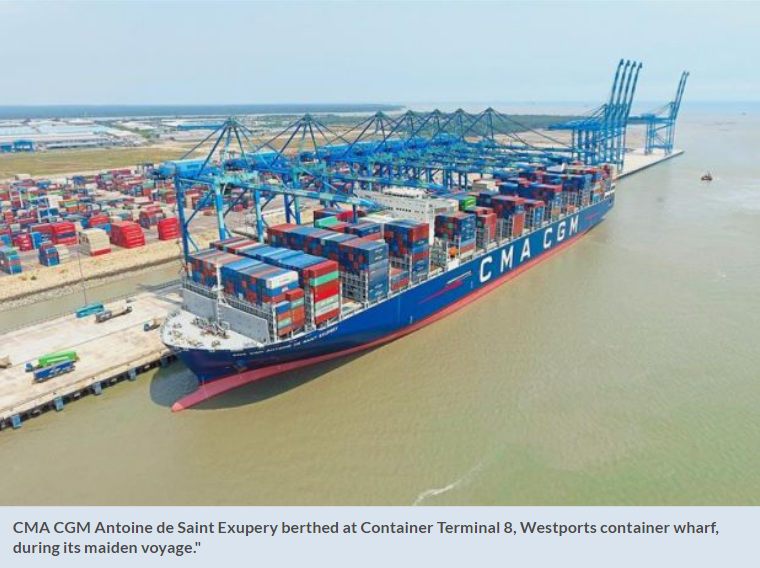 THE world's biggest container ship flying the French flag, CMA CGM Antoine de Saint Exupery, made a stop at Westports in Port Klang as part of its maiden voyage.
Named after a French writer and a poet, the container vessel with a capacity of 20,600 TEUs (or 123km of containers) is 400m in length or longer than four football fields and 59m wide, bigger than The Empire State Building and the Eiffel Tower.
It was berthed at Container Terminal 8, Westports container wharf that was completed last year.
Westports has earmarked nine new high performance ship-to-shore cranes to handle Antoine de Saint Exupery's containers. After this trip, the ship would be making Westports one of her regular ports of call using the same sea route service.
Westports Malaysia Sdn Bhd chief executive officer Eddie Lee enthused that "Westports has forged a partnership with CMA CGM since 1998 and we have grown significantly over the past two decades".
"CMA CGM is now the third largest global container shipping company while Westports has emerged as one of the mega transhipment hubs and container terminal in South-East Asia," he said.
In recent years, Westports has invested more than RM2bil in enhancing its container terminal facilities and equipment to handle ultra-large container vessels such as CMA CGM Antoine de Saint Exupery.
The container vessel also has a new-generation engine that significantly reduces oil consumption and fuel consumption for a 3% average reduction of carbon dioxide emissions.
It called at Westports on its French Asia Line 1 service, which is one of the longest sea routes in the world, connecting Asia to Northern Europe.
This line offers a weekly service to 16 ports of call for a duration of 84 days.
In his speech, CMA CGM vice- president for Asia regional office Mathieu Girardin said it is a technologically-advanced ship for the protection of the environment.
"We are clearly leading in protecting our environment," said Girardin, who said that the company found Malaysia to be a strong base for its business activities.
Port Klang Authority chairman Tan Sri Kong Cho Ha also commended the state-of-the-art technology deployed for the ship which has 30 crew members.
Kong encouraged the company, a leading worldwide shipping group, to grow its business in Port Klang.
"We will also make sure your business grows globally," he added.
Lee later revealed that Westports was in the midst of conducting a technical study for its future expansion plan, which is expected to take nine months to complete.
He added that Westports, which has nine container terminals handling 14 million TEUs, has future plans to increase its container handling capacity to 30 million TEUs.
Plans to build 10 more container terminals are being studied by the company.
By The Star